Sweet Factory has over 30 years of Global success as the World's leading brand Pick'n Mix retailer
Our Products
Halal, Vegan & Vegetarian Treats
We provide only the finest delicious sweets for our customer's delight. 1000's of mouthwatering sweets to choose from our beautifully designed packed kiosks.
Pick 'n Mix your favourite treats from the vast amazing World's famous sweets selections, including delicious Sweet & Sour Jellies, super soft Marshmallows, succulent Chocolate coated Fruit & Nuts, exclusive Hard Candies, eye-popping Lolly, unique Special Gift selections, and plenty more! Join the Sweet Factory today and enjoy the sweetest fastest growing franchise opportunity everyone loves to enjoy!
Sweet and sour jellies, marshmallows, fudge, coated fruits & nuts, chocolate treats, hard candy, and gift items are some of the products displayed attractively and conveniently in specially designed bins.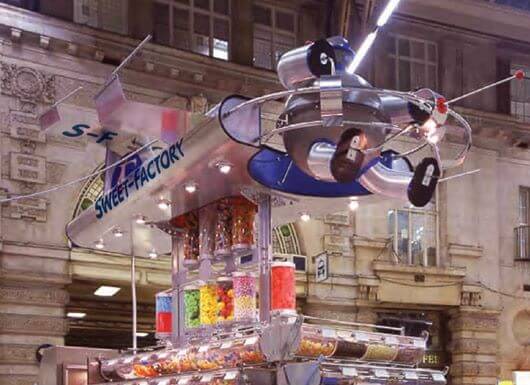 The Sweet Factory Story
We all love sweets! Our yummy global brand is packed full of colourful fun and delights, beautifully wrapped in a heartwarming exciting story for children of all ages to enjoy…. even grown ups !
Long, long ago a race of robots called the "Tin Men" discovered sweets and candy far, far away. Here is the story of how they brought SWEET FACTORY to Earth…
Sweet Factory Franchising
Sweet Factory are experts in delivering the finest, mix-weigh-pay confectionery in eye-popping elegantly designed kiosks and store outlets. A global leader of Pick'n'Mix sweet confectionary with over Thirty Years of experience we will make our success yours.
Sweet Factory stands for self–serve, mix-weigh-pay confectionery in elegantly designed kiosks or outlets. As a global leader of Pick'n'Mix sweets for more than twenty six years in the confectionery industry, Sweet Factory has successfully capitalized.
Support & Training
We provide comprehensive training and the support necessary to help you operate and track your business efficiently…
Site Selection
We can assist you in choosing the right location based on neighbourhood, mall traffic, footfall, lease terms, visibility, and competition…
Marketing & Web
We can provide comprehensive training and support necessary to help you operate and track your business efficiently…